The first public beer fountain in the world
YES, YOU READ IT RIGHT
18 February 2016 ·
We want to introduce you the first public beer fountain in the world.
Could you imagine how it would be if in a hot and sunny day, while walking in a street of the city center, suddenly a public fountain appeared and we prepare to drink… water??? Wait a moment…this is not water..this is beer!!! Could you imagine to have a public fountain in the center of the city that distributes beer instead of water? Well, it could become reality. Everybody couldenjoy the benefits of beer, that makes men perfect lovers and women's bones stronger.
This happens in Žalec, a Slovenian town in the traditional region of Styria, well famous for its flourishing production of hops. People decided to benefit the local tourism, so it disclosed to the city council the project of build a "public" beer fountain in the city hall square, with two different kind of beer, for everybody that would like to taste them. At first, the tourist will pay out 102 R for a commemorative 30 centiliter beer mug that he can fill up three times. There`s only this small fee to pay to open the draught and.. beer for everybody!!!
The project has been approved with the rejection of the opposition and it will cost about 5969 R. The city council will subsidize half of the money needed for the project, while the other half will be donated from the citizens. We will pay attention when this project will start to see how it will revolutionize people drink habits.
What a bright idea!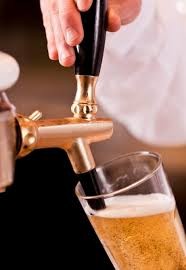 Related news